Delbert Beltona  88-year-old World War 2 Vet survived being shot during the Battle of Okinawa only to be beaten and left for dead by two Afro-American teens at the Eagles Lodge in Spokane on Wednesday evening.
Witnesses say Belton was in the parking lot of the Eagles Lodge at 6410 N. Lidgerwood, adjacent to the Eagles Ice-A-Rena, around 8 p.m. Wednesday when the two  Afro-American male teens  suspects attacked him as he walked from his car.
Police responded  approximately 40 minutes later. Their attempts to track the suspects
with K-9s to track the suspects however they where unable to pick up the scent.
Spokane police are looking for two male suspects in the attack. They said the suspects are African Americans between 16 and 19 years old. One suspect was described as heavy set and wearing all black clothing. The other was described as being about 6 feet tall and 150 pounds.  The photos of the two suspects.  If you have any information about this, you are urged to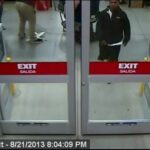 contact the Spokane Police Department at (509) 742-8100