Eric King, 28 was charged Wednesday with throwing two Molotov cocktails at U.S. Rep Emanuel Cleaver's (D-KS) office in Kansas City, Mo on September 11th.  The  office was closed at the time of the incident.
The attempted firebombing failed do to the alcohol having failed to be ignited by the the paper towels that where stuffed into the neck of the bottles.
King was identified after  police reviewed surveillance tapes from a nearby bank.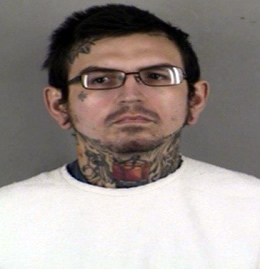 Police officers where able to quickly identify  King, due to his unique appearance.
King was arrested Tuesday morning as he was leaving his apartment.  Officers obtained  a search warrant and  recovered a letter titled "OPeration House Committee", which included incriminating detailed linked to the failed firebombing attempt.
"The Missouri congress has been a willing partner in the US governments (sic) capitalist war hungry agenda"