The 37-year-old Loganville Georgia woman initially thought the person knocking at her door was a solicitor. But when the man repeatedly rang the doorbell, she called her husband. He told her to gather the children and hide while he dialed 911.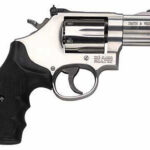 The Suspect, forced his way into the house and came up to the closet in the master bedroom where the woman and her children where hiding. What he found was the barrel of a 38 revolver staring at him. She emptied the revolver at point blank range. The man was shot in the face and neck.
By the time the county Sheriff Arrived they found the man lying face down, crying, and losing a significant amount of blood.  Emergency Medical Services where dispatched to the scene, who managed to take the waste of human life  suspect, who has a long criminal record. A Paul Ali Slater was listed in good condition
The woman is a hero, not only for saving her life, but that of her children.