Two people are hospitalized after a gunman chased terrified restaurant patrons into the lobby of the Santikos Mayan 14 movie theater during a showing of "The Hobbit" last night.
Police detectives and sheriff's investigators say the incident started in the China Garden Restaurant on Southwest Military Drive about 9 PM Sunday, when an employee of the restaurant walked in looking for a woman.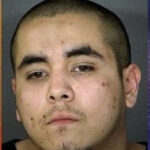 When the woman, who officials say is also a restaurant employee, wasn't there, the man pulled a gun and attempted to open fire in the restaurant but his weapon jammed.
"It started at the restaurant and then went into the parking lot and then into the movie theater," Deputy Lou Antu stated
The man, an illegal alien 19-year-old Jesus Manuel Garcia showed up the to kill coworkers as he was upset his girl friend broke up with him
Investigators say some of the terrified restaurant patrons poured into the movie theater, and the gunman followed.
He opened fire, shooting one man in the chest, before Antu says an off duty sheriff's deputy who was working security at the theater shot him once.
S