Text2Mate has gone open source, often hailed as one of the cool text editors for Mac users, its now freely available on github and is licensed under the GPL
Whether you are a programmer or a designer, the production of code and markup is hard work. Without an editor dedicated to the task, it is also often cumbersome, overwhelming, and repetitive. Especially when you are dealing with a lot of files at once — like most projects do. TextMate puts you back in control, reduces the mental overhead, and turns manual work into something the computer does.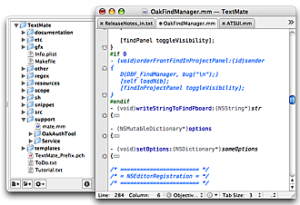 Created by a closet UNIX geek who was lured to the Mac platform by its ease of use and elegance, TextMate has been referred to as the culmination of Emacs and OS X and has resulted in countless requests for both a Windows and Linux port, but TextMate remains exclusive for the Mac, and that is how we like it!
TextMate is not an IDE but by using its powerful snippets, macros, and unique scoping system, it can often provide features that even a language specific IDE lacks. It has enough project management features to keep most users happy, but is otherwise kept lightweight with a clean and minimalistic GUI.