OS X 10.8 Mountain Lion operating system update will not include support for some older models with Intel chip-sets and on-board graphics.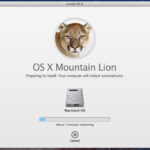 Apple announced that  OS X Mountain Lion in February, specifically mentioning newer Macs as qualifying for the upgrade. At the time, it was rumored that older Macs with Intel's GMA 950 and GMA X3100 integrated graphics processors would not be able to upgrade to OS X 10.8.
OS X  10.8 is only available on the Mac App Store.   Older Apple Computers not capable of installing at least OS X Snow Leopard 10.6.8 will not be  able to access the App Store.
The upgrade to OS X 10.8 is to cost $19.99 and said to contain over 200 new features, including better support for flash, voice recognition, and visual tweaks.