Best Buy as part of its on going struggles to remain fiscally viable admist America's recession has decided to let go nearly 2 percent of its work force, or 2400 jobs from its stores. Those affected include 1800 employees and 600 of its Geek Squad employees.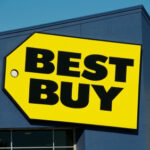 In an email , Best Buy explains the changes "the next big chapter in our new U.S. Operating Model (USOM) that will better position us to deliver an improved customer and employee experience through a restructure of our store teams and providing a Winning Culture in our stores and the field."
Previously this year Best Buy announced that it was to close 50 stores across North America in order to stay fiscally viable.