Microsoft unvieled the "Surface tablet" , Monday in Los Angelos California.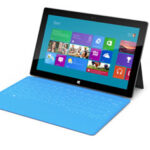 The new device, designed to be a competior to the Apple Ipad might just take a bite out of the Apple's Ipad  market, which has reportedly sold 3 million devices since its launch two years ago
The "Surface" comes in two models, the Windows RT, which will launch at the same time as Windows 8, and the Windows 8 model, which is due several months after the launch of Windows 8.  The Windows RT model is 9.3mm thick and weighs 1.4 pounds, while the Intel based Windows 8 model is 13.5mm thick and weigh 1.8 pounds.  The Windows RT version's smaller body makes way for some compromises and while it offers MicroSD, USB 2.0, MicroHDMI Video ports, the Windows 8 model has MicroSDXC, USB 3.0 and Mini Displayport Video inputs.