A 42-year-old Carl Jacquneaux,  showed up at his ex-wife's house June 2nd and attacked Todd Credeur, . Jacquneaux repeatedly bit Credeur's face, "removing flesh the size of a quarter".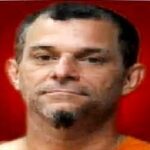 Credeur was working in his front yard when he was attacked by Jacquneaux, Credeur sprayed wasp spray in Jacquneaux's face in self-defense.
Jacquneux took off on foot, only to be aprehended at the end of the street when Lafayette Parish Police arrived on the scene
Jacquneaux was arrested and charged aggravated second degree battery, simple battery and violation of probation.
This is just another rash in the latest trend of Zombie attacks sweeping the  United States