Dalian Wanda Group and AMC Entertainment announced Monday a $2.6 billion deal to take over the U.S. theater group, forming the world's largest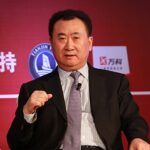 cinema chain.
"This acquisition will help make Wanda a truly global cinema owner, with theatres and technology that enhance the movie-going experience for audiences in the world's two largest movie markets," said Wang Jianlin, chairman and president of Wanda.
"As the film and exhibition business continues its global expansion, the time has never been more opportune to welcome the enthusiastic support of our new owners," said Gerry Lopez, chief executive officer and president of AMC.
Given China's repressive history, this is nothing short of Chinese propaganda buying its way into the American public's entertainment Industry.  With such films as Red Dawn 2, which was shot and filmed in 2009, and has been under going nearly 2 years of digital editing to digitally replace the Chinese flags, uniforms and emblems in the movie with North Korean ones.