A twenty second laser procedure developed by Stroma Medical's Dr. Gregg Homer can permanently alter the color of the eyes.
The procedure has been tested so far on nearly two dozen participants in exchange for corrective lens transplants.
The procedure works by using a carefully tuned laser that destroys the pigment melanin in the iris.  After the procedure patients can expect the eyes to slowly change color to blue.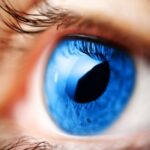 The possible side effects include blindness or pigmentary glaucoma. The procedure is reportedly going to cost anywhere from three to five thousand dollars.