A decline sales revenue  for its agricultural products, Deere & Co. today announced it was laying off more than 500 workers at Iowa location. Just last week Deere & Company announced they where laying off 500 workers from four of their other U.S. locations.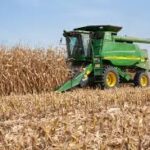 The decision has an affect employees at John Deere Harvester Works in Moline; John Deere Seeding and Cylinder in Moline; John Deere Des Moines Works in Ankeny, Iowa; and John Deere Coffeyville in Coffeyville, Kan.
Overall, the layoffs represent a sliver of Deere's workforce; the company employs more than 67,000 people.  Siting low commodity prices Deere & Co earlier last week, it reduced its profit expectations for the year and noted a sales decline in its agricultural machinery.
That will surely be a challenge for Deere. According to Bloomberg, agricultural machinery sales represented more than three-fourths of its 2013 revenue of $38 billion.